Stone Polishing: The Most Effective Process to Restore Dull Marble Vanity Tops in Chicago
July 28, 2023
Marble is a beautiful natural stone that is a fairly popular material for bathroom vanity tops. It offers homeowners a wide variety of shades and surface patterns to choose from. These enticing design options add a considerable charm to any space. Every marble slab is unique, with dynamic waves, streaks, swirls, and flecks that upscale the look and elegance of the bathroom. However, this refined appearance requires proper maintenance and care to keep it looking its best.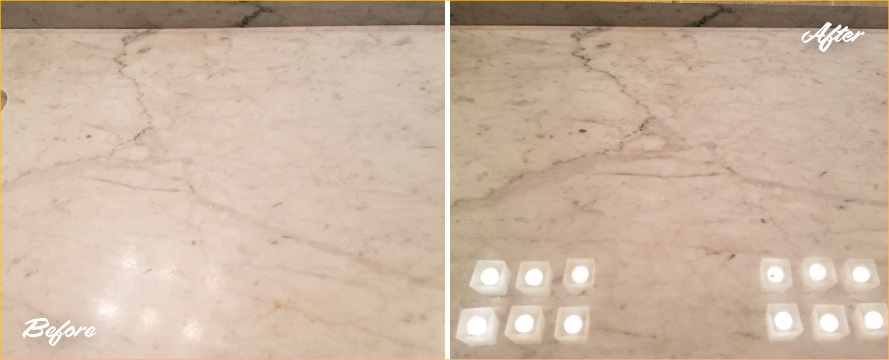 In contrast to other natural stones, marble is more porous. Because of this, it can quickly absorb liquids or spills, which leads to staining. Dull spots can also appear when acidic substances and harsh products come into contact with the surface. This damaging effect is known as etching and it can make the vanity top lose its charm and appeal. Luckily, our
stone polishing professionals in Chicago,
can remove these blemishes using our advanced techniques and special equipment.
A family from Chicago, IL rented their spare room for the summer. This room had its own bathroom, equipped with a gorgeous white marble vanity top. After the tenants' lease ended, they performed routine maintenance. While cleaning the bathroom, they noticed some negative changes on the vanity top. It had some visible scratches on the surface, looked dull, and had lost its shine. The family had to solve these issues before their next tenants arrived, so they tried to improve the condition of the surface using some DIY methods they found online. As instructed, they made a mix with vinegar, ammonia, and water and applied it to the surface. They scrubbed the mixture and spent a long time trying to remove the dull spots. Unfortunately, this procedure was not successful, and in fact, they were causing more damage to the marble. They decided to look for better options.
Fortunately, one of their neighbors was a former Sir Grout Chicago client. When the family told him about the problem, he immediately recommended us. He said we had worked on his travertine floor and we left it looking as good as new. He suggested checking our website to get all the information they might need. Following his advice, the family went online to browse our page. As they were going through the site, the
picture gallery
caught their attention. The pictures showcased the superior quality of our work and the results we provide to our customers. They were relieved to see we had fully restored marble surfaces with similar issues as theirs. After reading comments and testimonials from previous satisfied clients who certified us as a leading company in the industry, they decided to call us to schedule a free in-home consultation.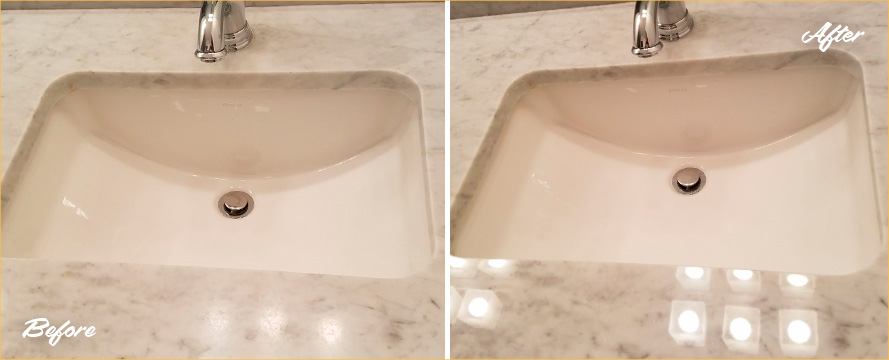 On the appointed date, we arrived at the house to begin the evaluation of the vanity top and to offer the most effective solution for the problems. After briefly greeting the owners, we proceeded with the assessment. At first glance, we noticed scratches left by improper cleaning, and dull spots and stains caused by acidic substances. We could also tell the surface had not been sealed, which can lead to a myriad of problems. We explained that unsealed marble can absorb cleaner residue, oils, water, or any splash of liquid left lingering for long periods of time. This produces etching, which is the reason the stone looked dull. We pointed out that this material is highly susceptible to these kinds of damages. When this happens, the problems can only be rectified with proper maintenance, professional treatment, and high-grade honing pads.
The vanity top needed our special tools and techniques to be fully restored. We offered a stone polishing service to remove all the scratches, dull spots, and stains from the marble. We would polish the stone with our special equipment, making sure we achieved the shine desired by the owners. We would use our exclusive stone-safe products that won't damage the surface. To finish, we would seal the marble using our top of the line Stone Armor. This unique sealant provides the necessary protection against all damaging agents and gives the stone a beautiful appearance. The owners were pleased with our assessment and accepted the solution we proposed. They agreed to set up a date for the job.
We returned to our clients' house a few days later to begin the stone polishing process. It was a skillful procedure that required our tested methods, professional tools, and superior products. Our advanced technique consists of several steps to achieve full restoration. We started by cleaning the vanity top using our stone-safe product and a high-speed scrubber. Our cleaner now has an enhanced formula that can help inhibit the growth of bacteria and fungi. Once this was done, we could begin honing the marble. We ran three sets of honing pads with increasing levels of grit. We continued grinding until all etches, scratches, and stains were removed. When this was completed, we were ready to start the polishing process.
To polish the surface and achieve the shine desired by our clients, we continued grinding, increasing the level of grit and using a series of abrasive materials and our special powders. When the desired gloss was obtained, we finished the procedure by sealing the surface with our top of the line Stone Armor. This sealant is especially useful for the bathroom's vanity top because it protects the surface from the wear and tear of daily use and shields it from all sorts of liquids, warding off stains, discoloration, and other damaging agents. It also enhances the marble by giving it a brand-new look.
After all the steps were completed, the bathroom's vanity top looked astonishing. It regained its shiny elegance and was fully restored. All the scratches and dull spots were removed, revealing the allure and charm of the marble. The surface had a renewed appearance, free of blemishes. Thanks to our superb sealant, the surface had a resilient layer of protection. This high-level restoration was only possible with our experienced work, advanced techniques, and top tier products. With the right maintenance, this result can be easier to keep and can last for a long time.
We invited our clients to see the outcome of the process. The family was thrilled to see the radiance back on the surface. The dull, unsightly appearance was gone. The white marble looked beautiful and shiny once again. They were relieved because their vanity top recovered its elegance in time to receive new tenants. The owners were happy with the results and said that our performance had gone beyond their expectations. After thanking us, they stated that from that point on, they would recommend our services to all their friends, family, and neighbors. Sir Grout Chicago had become their company of choice for hard surface restoration.
We always take time to train our clients on how to perform proper cleaning routines on their restored surface. Before leaving, we gave the family some recommendations and suggestions to keep the vanity top looking great and make cleaning routines easier, faster, safer, and more effective:
Use pH-neutral, stone safe cleaners that won't remove the sealer or etch the stone, like our Sir Grout's Natural Hard Surface Cleaner. This product won't cause any damage and it has an enhanced formula that provides protection against fungi and bacteria. Acidic substances react with the composition of the stone and leave etches on the surface, causing dull spots to appear. These types of cleaners should not be used on marble.


Keep the vanity top dry. Remove any spill as soon as it occurs. Avoid leaving spills and liquids lingering for long periods of time. They are absorbed and stain the stone quickly. For this reason, they should be dried out immediately. Soak up the spills with paper towels and do not wipe or spread them. Also, frequently use a damp mop to get rid of dirt. This should be done to prevent scratches caused by daily use.


Seal the surface every year. If the marble in the vanity top is unsealed, all sorts of liquids can be absorbed very easily. This causes stains and discoloration as well as the appearance of etches. It's very important to keep the stone fully sealed and protected to prevent these damages.
Our outstanding process, high-quality products, and these easy to follow recommendations are guaranteed to keep the restored vanity top looking beautiful for years to come.
It is possible to bring back the shine of your dull, lifeless marble vanity top with Sir Grout Chicago's professional help. Our award-wining stone polishing processes can restore the luster of any stone. We provide experienced and qualified assistance that will make your surface sparkle again. As a leading company in the hard surface restoration industry, we have the most effective techniques to help you with your problem. Don't hesitate to contact us by calling
(773) 661-6761
or by filling out our "Request a Quote" form for a free in-home consultation. We will be happy to attend you. Also, be sure to subscribe to our
newsletter
to receive our latest info and promotions.
If you found this article helpful then let us know in the comments section below. Likewise, feel free to share it using the share options below. Want us to cover another topic of your interest pertaining to Hard Surface Restoration? If so, then like us and follow us on social media, and post to any of our social media profiles the topic you'd like us to discuss:
Facebook Sir Grout Chicago
,
Instagram @sirgroutchicago
, and
Twitter @SirGrout
.