Welcome to the travertine category for the Sir Grout Chicago Blog. Here you'll find blog posts related to travertine surfaces that we've restored. See the amazing transformations with the included before and after pictures. Feel free to share and leave your comments.
Published June 02, 2017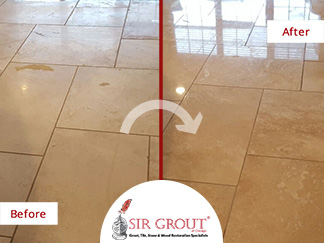 This Honing and Polishing Service Worked Wonders for This Beautiful Travertine Floor in Chicago
Naturally, everyone wants their guests to be welcomed by pleasant spaces filled with comfort, coziness, and beauty. To achieve this feel, you need to take care of all the details that make up for the overall appearance of your house.
READ MORE
Published October 19, 2016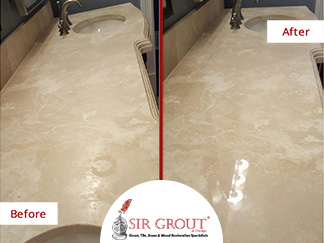 This Homeowner's Travertine Vanity Top in Chicago Regained Its Former Glow after a Stone Polishing
This homeowner moved to this apartment in her hometown just a year ago. It was the first time she lived alone and she loved her independence. She enjoyed clean spaces, which is why she followed a cleaning routine in her new apartment, every day after work.
READ MORE