Travertine Maintenance and Care: Everything You Need to Know
November 23, 2022
When designing or remodeling a home, we firmly recommend choosing materials that offer durability, beauty, and elegance.
Natural stones, such as travertine, offer just that. Whether it is for a home or a commercial area, contractors and designers know that stone surfaces are a wise investment that can add value to a property.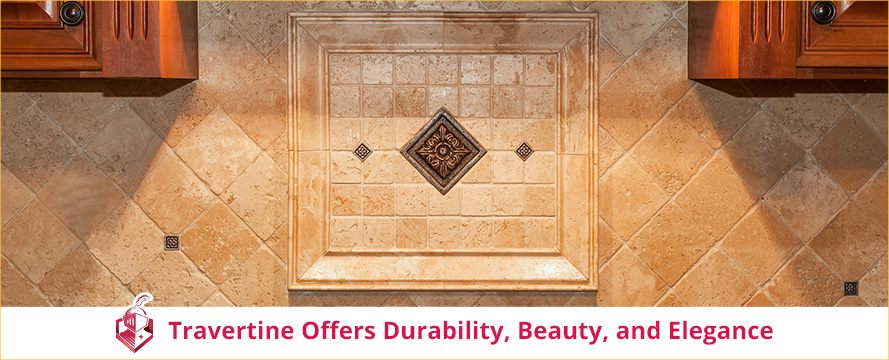 Natural stone is versatile in terms of types, uses, and finishes.
You have plenty of options to choose from according to the wear and tear that the surface is expected to get, the design, the maintenance, and the price you're willing to pay. You can choose between marble, granite, slate, and other beautiful stones, but travertine remains a favorite.
This versatile stone adds distinction to any room and offers many advantages, but it can also deteriorate over time.
In this blog post, you will find some basic travertine facts, the most common types of finishes for travertine, and the types of damage that it can suffer, along with Sir Grout Chicago's expert insight on two of their main restoration procedures for this natural stone:
Residential Travertine Honing And Polishing
.
Additionally, we will offer basic care tips for your newly honed and polished travertine.
Travertine: A Stone with Great History
Travertine has been a part of history and civilizations for centuries. From ancient monuments to modern structures display the use of this wonderful stone: the Roman Colosseum was built with travertine, and Michelangelo used it in the dome of St. Peter's Basilica, and the lobby walls of Chicago's Willis Tower (the Sears Tower) are lined with travertine. "Travertine" is a name derived from Latin.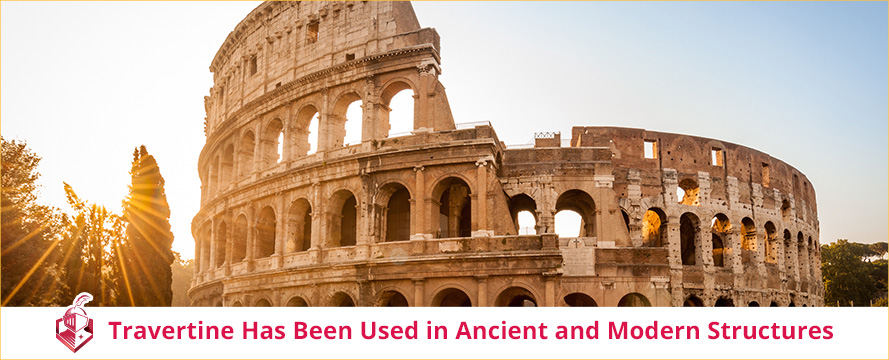 Its Latin name is
lapis tiburtinus
, which means Tibur stone, and it is named after the Roman city where it was quarried, now known as Tivoli.
Although Italy and Turkey have been traditionally big exporters of travertine, there is also some domestic production, represented mainly by the large travertine deposits in Yellowstone National Park.
The Basics About Travertine
This luxurious sedimentary stone is composed mainly of calcium carbonates and it forms in hot springs and geysers, or limestone caves. It comes in a range of beautiful colors, from neutrals like white, beige, and chestnut to shades of pink and red (redder shades have a higher iron content).
Travertine is an excellent option for home and commercial use alike: it is durable, has low density, and its porous structure makes for good thermal and soundproof properties.
Travertine is good for indoor areas (living rooms, kitchens, bathrooms, floors, walls, backsplashes, and counters) or outdoor areas: (entryways, pools, and more). Like any other natural stone, travertine is considered a luxury material.
However, it still has a great value for money considering its characteristics. Travertine stands up well to high traffic areas, it's fairly easy to maintain, and comes in different finishes as well.
Types of Travertine Finishes
Natural travertine has holes and pits that give it a rugged surface. This characteristic makes floors more interesting since no two travertine tiles are alike. Travertine with a rugged finish is the most sought-after.
Basically, travertine is filled or unfilled, depending on whether those pits have been filled. Once the stone is quarried and filled, it is given a finish: tumbled, brushed, honed, or polished. These are four basic ready-to-install finishes you can find when you are shopping for travertine tiles:
Tumbled: this type has the most rugged finish of them all, so it doesn't have a reflective surface. It has an aged and weathered appearance. To get this finish, the tiles are put in a rubber drum along with water, sand, and rocks, and tumbled around. This process softens the surface of the tile and wear down the edges (which is why travertine in this finish usually have slightly rounded edges).


Brushed: it also has a very rugged appearance, which is given with a wire brush. Like tumbled travertine, brushed travertine reflects the least light. It usually comes in muted colors.


Honed: it is the most common type of finish. It has a dulled, almost matte shine. Honed travertine is polished flat, but not completely glossed, so it has a rustic yet elegant appeal.


Polished: it is smooth and flat, and it has a high-gloss surface. Polished stone tends to have richer colors and it is particularly stain-resistant. However, it can be slippery.
How Does Travertine Get Damaged?
Wear and tear or carelessness can take its toll on travertine regardless of the finish. These are the types of damage that travertine can suffer:
Etching: this happens when an acidic substance penetrates the stone and corrodes it. In other words, the acids in some substances like wine, vinegar, coffee, or acidic cleaners can eat away at the stone in the affected area. Etching causes whitish stains or spots as you can see in the video below. In this case, the spots were caused by urine and acidic toilet bowl cleaners.
Staining: stains happen when a substance penetrates the stone and leaves a darker mark.


Scratching: when sharp or heavy objects are moved across a travertine surface, there is a considerable risk of scratching. These objects can even make dents on travertine.


Mold, mildew: these fungi are common if travertine is exposed to constant moisture.
Grime buildup: this is especially possible with pitted travertine. The small cracks and pits on the surface get grime deposited even if maintenance is done properly.


Mineral deposits: these white and scaly-looking stains are more common wherever tap water is hard water (in other words, contains a lot of minerals, such as calcium and magnesium). They are formed when soap residue and said minerals combine.
Luckily, all of these types of damage can be reverted with a professional restoration. Travertine honing and polishing can radically change the appearance of your travertine and make it look brand new. At Sir Grout Chicago, we specialize in these procedures, so we want to give you our insight on how they are done.
Travertine Honing and Polishing to Restore Your Surfaces
Deep cleaning and honing and polishing are necessary depending on the extent and type of the damage. These processes are carried out by expert technicians to restore travertine surfaces back to their original state.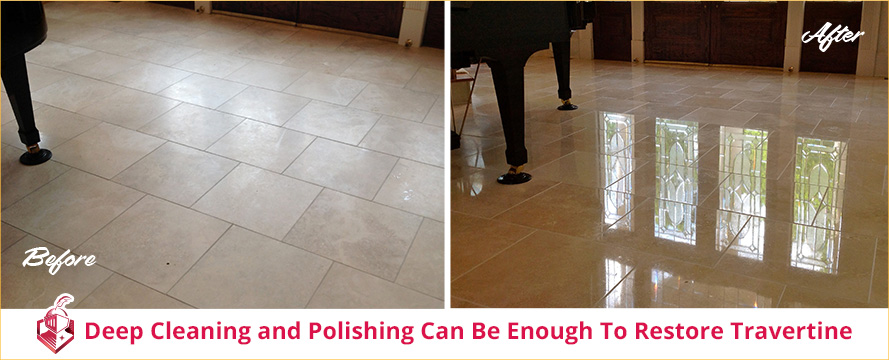 Honing
restores natural stone floors by removing etch marks, scratches, and stains with industrial diamonds. A diamond pad (an abrasive, low-numbered grit pad) is put on a grinding machine, or honing powders are applied to the stone and then buffed on the surface.
In the case of diamond pads, they have numbers according to their ability to remove layers of stone. The lower the number, the coarser the grit. The higher the number, the less abrasive it is. Higher-numbered pads are used for polishing. Honing needs a special industrial grinding machine and technicians who have training and experience. Sometimes honing is all it takes for a floor to look just like new. The reason this happens is that honing buffs away the outer layers of stone to expose a newer surface that is free of scratches, etch marks, or stains.
Honing is a great option for high-traffic areas where you need good slip resistance and you want the signs of wear and tear to show less, but you don't want a rustic finish. Despite its slip resistance, honed travertine does not have maximum skin resistance when wet; this is because water films on top of honed surfaces, creating a skating effect. Honed stone looks natural and shows all the details of the stone but still looks elegant.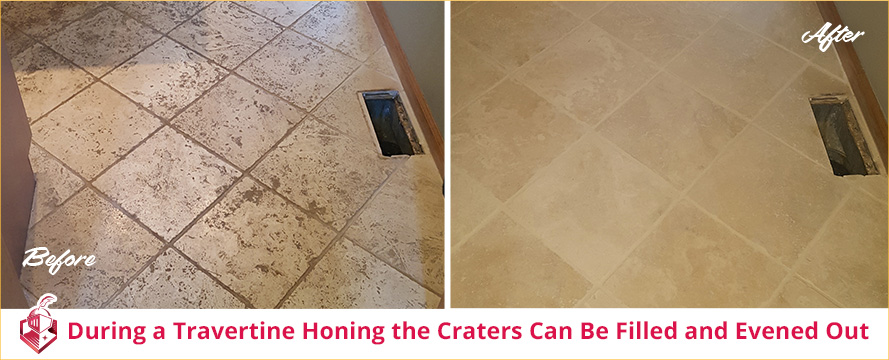 Stone floors are more porous than polished floors, so from time to time, the pits in them will wear away and eventually become big craters. In these cases, a filler is needed. This procedure, called
filling
, consists in applying an epoxy substance and then evening it out during the honing process.
Professionals know that stone floors need to be sealed to protect them from damage. For this procedure, it is advisable to use impregnating sealers since these penetrate the layers of stone sealing the surface from the inside out.
Polishing
is another favorite of travertine restoration. This procedure offers an elegant mirror-like shine that looks very luxurious. Polishing is done with industrial diamond pads, just like honing, but these have lower grit. In other words, they are less abrasive. Polishing is usually done after honing if the homeowner wants their floor to have a high-gloss finish. Floors in good condition sometimes don't need to be honed, just polishing is enough.
Another basic procedure that precedes any other travertine restoration is
deep cleaning
. Experts use high-speed scrubbing machines and vapor steam cleaning machines to access the hardest spots. Even the deep-seated grime that fills the pits and cracks of travertine and the grout lines can be wiped away with these machines and stone-safe cleaning products.
The grout lines between travertine tiles can take the beauty away from this beautiful stone. Grout lines can be sealed with Sir Grout Chicago's proprietary ColorSeal, as shown in the shower below. ColorSealing consists of applying an epoxy-based sealant that protects the grout from mold, mildew, moisture, and stains. At the same time, it gets recolored in any hue the client desires.
Basic Travertine Care
Travertine needs a consistent care routine. The following tips are easy and very effective at keeping travertine in top conditions.
If you are cleaning a floor, sweep it with a soft broom or a dry dust mop. You can also vacuum to get rid of grit and dust. Do not use tough brooms, those can scratch the surface of the travertine. Do not use a full-sized canister vacuum cleaner, use a handheld one. Dry cleaning your travertine is a good idea for daily maintenance.


For any travertine surface, use a high-quality neutral cleaner. Be careful that the product you use is labeled as safe for natural stone. Avoid over-the-counter cleaning products that contain acidic substances, which can etch and damage the stone.


Warm water, gentle cleaners, and a microfiber rag or mop are enough to maintain travertine. Once you've wiped the surface with this, you can get rid of the moisture on it with a dry microfiber rag or mop. Mopping can be done once a week and it will be enough.


If a spill occurs, wipe it up immediately. This will avoid stains or etch marks.


Protect your floors with carpets and rugs and get rubber protectants for furniture. Use placemats, coasters, caddies, and trivets on kitchen counters. Use vanity trays on bathroom surfaces and protect mantlepieces with placemats.


You can deep-clean your floors or other surfaces twice a year with an automatic scrubber or a vapor steam cleaner.


Squeegee your travertine shower after each use. Keep the bathroom ventilated to avoid moisture.


Be sure that your tiles and grout are in optimal condition. Check for cracks, discoloring, or chipping every six months. If you find any problem, call the experts.


Your travertine surfaces will last longer if you seal the stone.
There is no reason to allow your travertine surfaces to deteriorate further. Experts like our Sir Grout Chicago team can work wonders on travertine surfaces regardless of how damaged they are. if you need information about our travertine honing and polishing services, do not hesitate to call us at
(773) 661-6761
or fill out the "Request a Quote" form that you will find on this website.
Get our news and useful hard surface restoration tips by subscribing to our
newsletter
.
If you found this article helpful then let us know in the comments section below. Likewise, feel free to share it using the share options below. Want us to cover another topic of your interest pertaining to Hard Surface Restoration? If so, then like us and follow us on social media, and post to any of our social media profiles the topic you'd like us to discuss:
Facebook Sir Grout Chicago
,
Instagram @sirgroutchicago
, and
Twitter @SirGrout
.