Is Grout Sealing Necessary After Installing New Tile?
April 27, 2023
After installing new tiles on your floors, showers, walls, or countertops, you may ask whether or not it is necessary to seal your tile surfaces.

Most installers will not seal the tile surfaces right away to ensure that the grout has enough time to cure completely. However, once the grout is completely dry, using a sealer to protect it would be a smart decision.
Grout recoloring and sealing
has many benefits to help keep up your home and protect your investment.
Since grout is commonly a cement-based product, the cement material makes the grout porous, causing it to absorb liquids if they are not cleaned up right away. Therefore, grout sealing is an incredibly important process for your tile surfaces.
Not only does it help protect your grout from spills that make it susceptible to stains, but grout sealing helps protect it from mold and mildew growth, strengthens your grout, and slows down wear-and–tear.
Over time, water and grime can penetrate the grout, causing tiles to crack and eventually break. Sealing your grout will help reduce the occurrence of damages and prolong the life of your tile surface.
Are there exceptions to the rule? Yes, not every type of grout needs to be sealed. For example, grout epoxy grout does not need to be sealed because it is not porous. Epoxy grout is often used on non-porous surfaces, such as glass, and helps protect against stains and water.
Unlike cement-based grout, epoxy grout also remains flexible, which makes the material less prone to becoming cracked and chipped. However, before applying epoxy grout, unsealed tiles such as natural stone surfaces must be sealed first.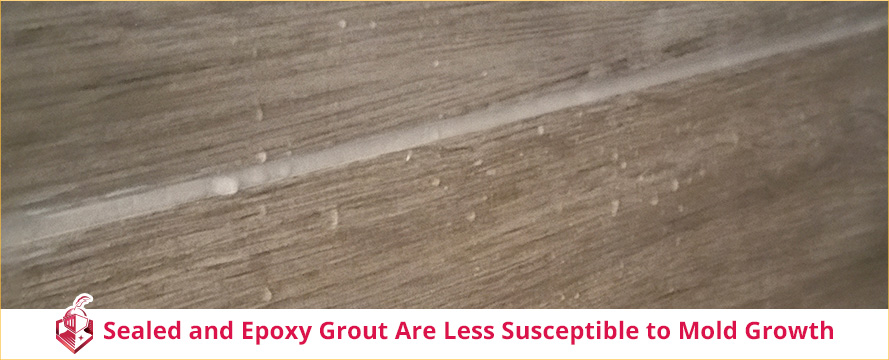 Certain types of tile surfaces, such as non-porcelain ceramic tiles, do not need to be sealed. For example, most ceramic tiles are finished with a durable glaze that can help protect the surface from stains, so adding a sealer will not be necessary.
However, since porcelain tiles are not coated with a protective glaze, these surfaces should be maintained with a protective sealer. If you have natural stone surfaces such as marble, travertine, slate, or granite, sealing the tile surfaces will be necessary because stone is a porous material that is vulnerable to stains and moisture.
If you have existing tile surfaces, and you are not sure whether or not it is necessary for you to seal your grout, there is a simple test that you can perform to find out. Try dropping a few drops of water into your grout. If you see that the grout absorbs the water, then you will know that it is time to reseal your grout.
If you perform the "water test" and discover that your grout is in fact absorbing water, don't waste any time. Water damage can have significant repercussions on your home, and there's no telling what is being trapped or how long the grout will last once it is porous. Oftentimes, we see dirty, moldy, and porous grout that has been severely damaged. A grout recoloring and sealing is a great, affordable alternative to having your grout replaced.

Frequently, when homeowners think that grout damage is irreparable, Sir Grout is able to reseal it and prevent a costly, invasive remodel. Click on the "Schedule a Free Quote" button to book your free tile and grout evaluation, today!