Sir Grout of Chicago Customer Helps Restore Our Van by Sharing His Home
March 19, 2015
One blizzard-like day last month, our team of professionals had boarded the Sir Grout of Chicago van and had just embarked on a rescue mission to restore a customer's tile and grout when, all of a sudden, a loud thud was heard. It all happened so quickly; we had been t-boned and pushed off to the side of the road by someone who had ran a red light. Luckily, none of the people involved in the accident were injured, but the same can't be said for our van; the side of it that had been impacted by the collision was now a tragic sight. As can be seen in the picture below, we now needed all new side panels for the van.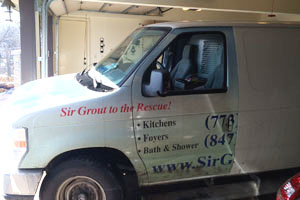 Over the course of the next month, as we all were witnesses of and are glad has come to an end, the snow kept coming down and the temperatures remained frigid, making it impossible for us to re-wrap the van outside, or even in a garage. However, thanks to spring finally deciding to make its late arrival, the weather had finally warmed up just enough for us to be able to have it worked on, in a garage that didn't belong to us, last week.
While at the home of a customer who had requested assistance from Sir Grout of Chicago's
Oakbrook Terrace Tile and Grout Cleaners
, the customer heard us discussing our dilemma and offered the solution of having someone come fix our van in his garage while we worked on his tile and grout. To us, this was a fantastic idea since it would allow us to kill two birds with one stone.
Not long after, the company we chose for the job, Waldograph, showed up at the customer's Oakbrook Terrace home. The damage we needed help with involved the van's exterior. As the pictures show, we typically decorate our company vans with a graphic wrap depicting our company name, a picture and quick descriptions of some of our services, and our contact information. Due to the collision, however, the wrap had been destroyed on the driver side of the van and needed to be replaced after its remains had been removed. The whole process didn't take too long and, when it was finished, we were pleased with our van's brand new, undamaged visage, which is displayed below.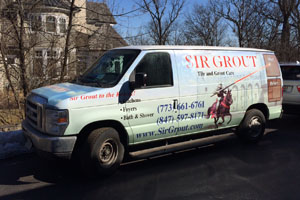 Although he was glad to finally have the van back in action, Dan Lundstedt, our owner, was even happier about the kindness of his customers. In his words, "Having a customer go out of his way to help us with our business operations is something he definitely didn't have to do, but we greatly appreciate him doing. Thanks to him sharing his home and garage with us, we were able to have our van's exterior restored without it needing a down day. At the end of the day, we now have a spruced up van, our customer has cleaner, brighter, better looking tile and grout, and we all had a great time bonding with various community members who otherwise would have never got to spend the day together."
We're never entirely sure what a day on the job at Sir Grout of Chicago will have in store for us, for example, we definitely weren't expecting to be part of a roadside collision, but events like these are what make our job exciting, but we're glad to know that our customers have our back and are willing to help us out when they can.
If you found this article helpful then let us know in the comments section below. Likewise, feel free to share it using the share options below. Want us to cover another topic of your interest pertaining to Hard Surface Restoration? If so, then like us and follow us on social media, and post to any of our social media profiles the topic you'd like us to discuss:
Facebook Sir Grout Chicago
,
Instagram @sirgroutchicago
, and
Twitter @SirGrout
.