How to Remove Old Grout
February 07, 2023
Grout is an essential element of tile installations. Ideally, high-quality well-sealed grout should last a very long time without needing to be removed. There are a couple of reasons why you may want to remove grout.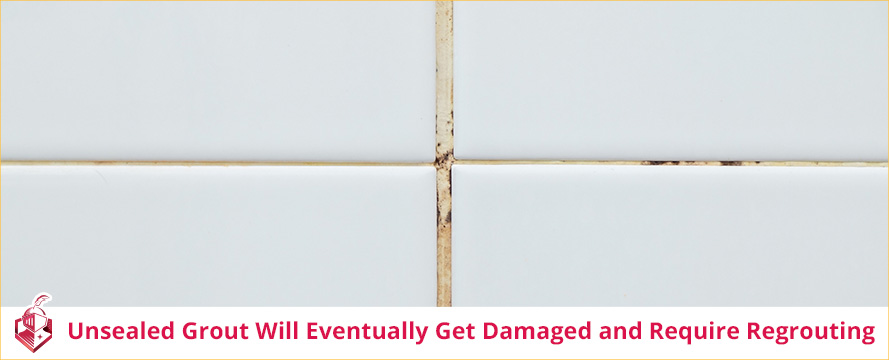 Maybe you want to re-grout and want to start from scratch. Maybe you purchased a property where the grout is old and starting to deteriorate. This happens because many times cement-based grout was used and not sealed properly, eventually leading to a breakdown of the product.
These are some of the reasons why home and business owners may want to remove the old grout and regrout tile or stone surfaces with new grout. Here's how to remove old grout.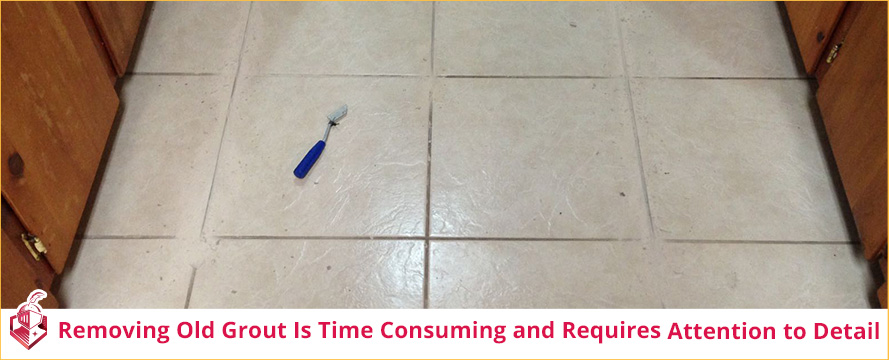 Removing old grout and
regrouting
can be a difficult, time consuming process. There are basically two ways you can remove old grout.
You can do it the old-fashioned way, by hand using a triangular grout removal tool, or you can use a power tool (an oscillating multi-tool with a grout removal attachment). You also want to have eye protection to avoid getting airborne grout chips in your eyes. Ear protection is a good idea if you're using a power tool.
How to Remove Old Grout
Apply protective tape to the edges of the tile, running it along the grout you will be removing. This is important if you are unfamiliar with removing grout. The duct tape can act as a barrier to prevent bumping the tiles and damaging them. Once you've taped off the area you can begin to remove the grout with the tool of choice.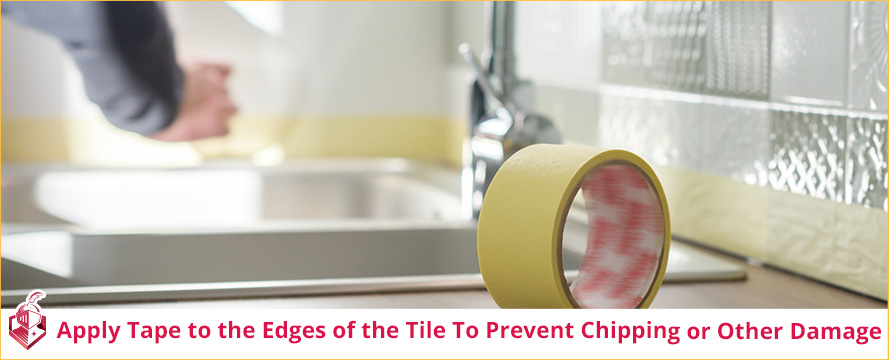 Begin removing the grout in small sections. If you are breaking it out by hand, be careful not to point the grout removal tool directly at the edges of the tile. If you're using a power tool, always use the lowest setting that does the job.
You might be tempted to crank it up to get the job done faster, but you risk losing control and damaging tiles. Removing old grout isn't something you can do fast. Try to work with between two and three tiles at a time, vacuuming up as much of the grout dust as you can while you work.
How Much of the Old Grout Should be Removed?
You want to remove about half the thickness of your grout. If the grout is 1/4 inch thick, then you will be removing 1/8 inch of the old grout. Choose one direction and try to work in the same direction for the entire project, checking your progress as you go.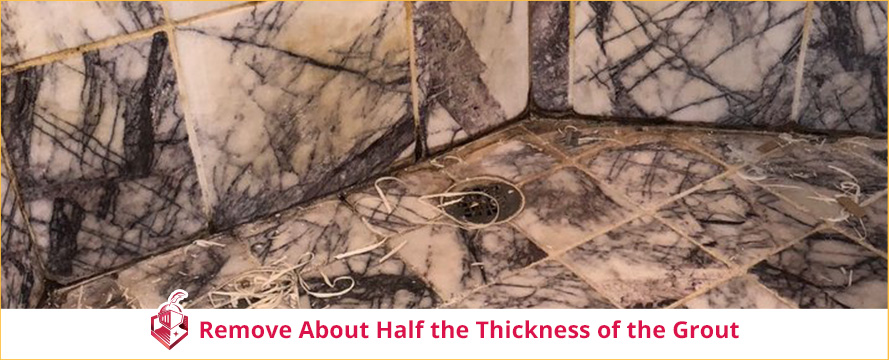 If you are removing shower tile grout close to the intersections, use a hand tool and place the edge of the tool flush with the vertical tile, in line with the grout you are removing. Carefully tap it out. This will take several passes to completely remove.
Leave It to the Professionals
If you'd rather leave it to the professionals to avoid damage to your tiles, Sir Grout Chicago is the right choice. Yes, you could try and save a little money by doing it yourself, but if the job doesn't go well, it could end up costing you even more. That's why letting professional hard surface restoration specialists do the job is a good idea for a lot of people.
Removing old grout is a time-consuming process that requires some precision and attention to detail. If you aren't experienced, you could find yourself damaging the tiles themselves, which may result in having to replace more than just the grout. In many cases, the tiles in the project might not be available anymore, necessitating a partial or complete replacement of the tiles.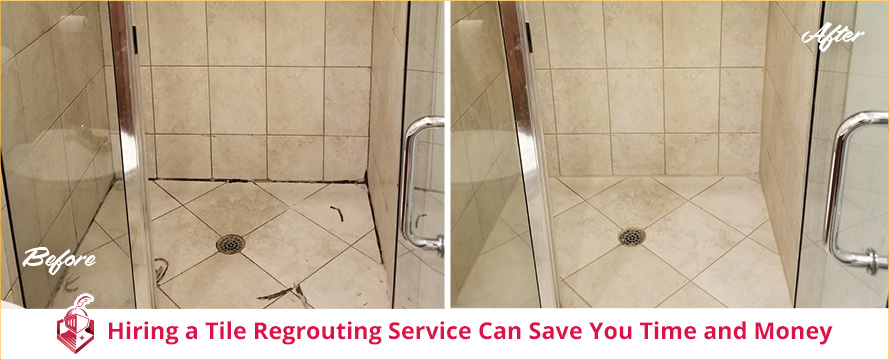 Also, in order to maintain its integrity, tile cannot be left without grout. Grout is the material used to fill the spaces between tiles and it also keeps the edges even to void chipping or other damage. Grout also prevents water from seeping under the tiles, so after the old grout has been removed, re-grouting the tile becomes necessary.
As a leading company in the nation, Sir Grout Chicago has over 40 locations throughout the country. This means there is likely a Sir Grout Chicago near you. Sir Grout Chicago has been ranked in Entrepreneur magazine's Franchise 500 List for many consecutive years. We have also been screened and approved by Home Advisor and certified by TrustDALE as a company you can depend on for high-quality service.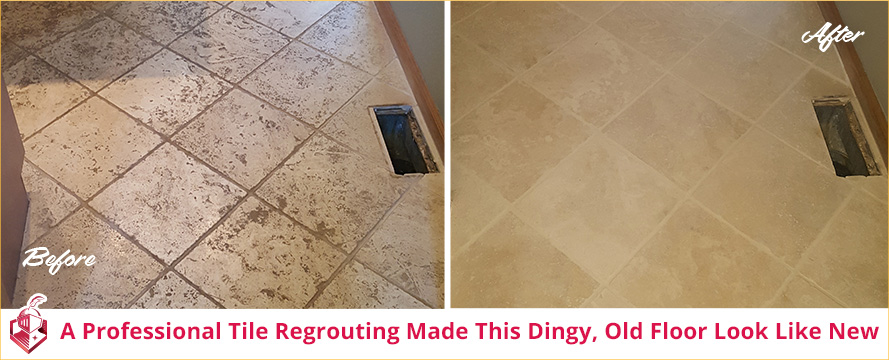 Whatever your hard surface restoration needs are, from tile re-grouting to stone restoration, Sir Grout Chicago is the company to rely on for a job well done. Sir Grout Chicago offers a range of
tile and grout services
, stone services, and other services for both
commercial
and residential settings. Our professional hard surface restoration services come with a guarantee of satisfaction and confidence that you are getting the best professional help in the industry.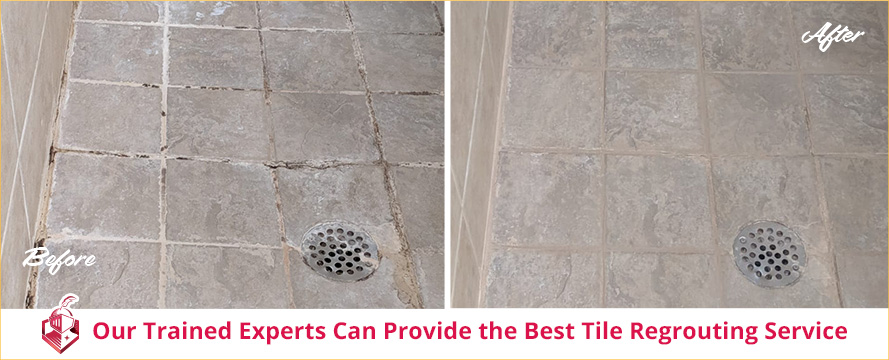 Unless you are experienced in grout removal, rely on the professionals to get the job done for you. Give us a call at
(773) 661-6761
, or click on the handy "Schedule a Free Quote" button on our website to find a Sir Grout Chicago near you. Residential or commercial, we're ready to give you a free on-site quote and demonstrate to you how a professional hard surface restoration company can give your hard surfaces a brand-new life.