An Outstanding Grout Cleaning Job in Chicago, Transformed This Bathroom in Just One Day
September 07, 2018
Grout is the mixture used to fill the gaps between tiles. This not only keeps them in place, it prevents water from leaking into the walls or floor and causing structural problems. It can also make the surface look clean and beautiful or ugly and dirty. Freshly installed grout looks pristine and gorgeous but it can quickly become stained, moldy, and cracked if it is not properly maintained. This mixture is not as sturdy as your tiles. It has quite a porous composition that makes it prone to staining, discoloration, and mold growth. This happens because it can absorb dirt, grime, and all other harmful agents in the environment. Once the grout is badly damaged, it becomes unsightly and it can't be restored with conventional cleaning methods. Improper procedures and harsh products will only cause more damage to the grout. Only professionals with the right equipment and experience can make degraded grout lines look spotless and brand-new.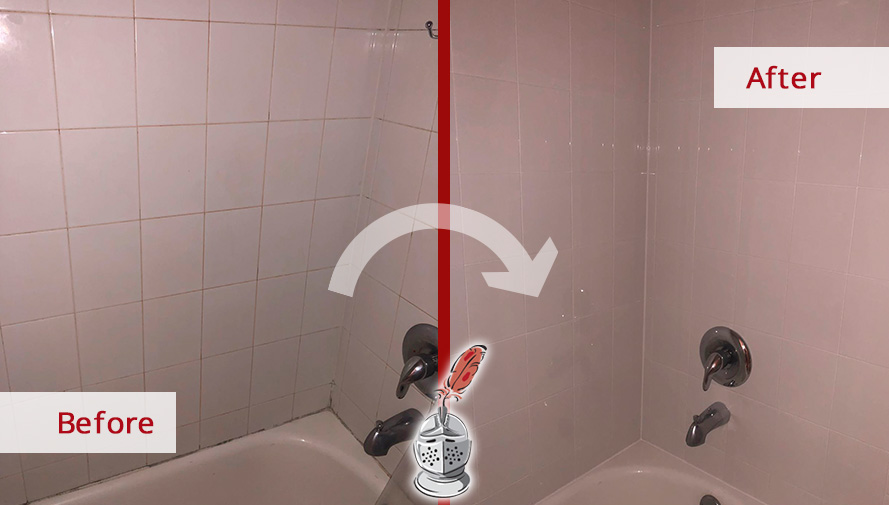 A young man from Chicago, IL moved to a new house closer to his work place. He had always been able to manage his home without issues, keeping it clean and welcoming. Recently, however, he was having a hard time with the maintenance of his bathroom. No matter how much he cleaned it, the grout lines on the floor and walls looked dirty, muddy, and unappealing. He was not pleased with the condition of his bathroom and wanted to solve the problem quickly because his mother was coming to spend some time with him. The owner began searching for methods to solve the issues. He found some DIY procedures to clean grout online and gathered all the products the instructions indicated. He later found he would need our
grout cleaning experts in Chicago, IL
, to restore his bathroom.
As instructed in the guides he found, he made a mixture with baking soda, vinegar, and water. Using that paste, he began scrubbing all the grout lines on the walls and floor with a toothbrush. The young man spent all morning and part of the afternoon performing this chore with his best effort. Unfortunately, there were no positive changes in the grout lines. They remained muddy and dirty. He was not happy with this outcome and decided to call his aunt to ask for her advice. Luckily, his aunt was a former Sir Grout Chicago client and we had helped her solve the issues of her marble countertops. She immediately recommended our services and told him that after our work, her countertops regained their beauty and looked brand-new. She advised him to check out our website to get more information.
He followed his aunt's advice and went online to browse our site. The superior and professional service we offered impressed him and he was amazed by the great amount of positive comments and testimonials we had. All our previous customers were satisfied with our performance. As he browsed the site, our
picture gallery
caught his attention. The pictures showed him the results of our work and how bathrooms with similar problems had been fully renovated. Everything he saw certified us as a leading company in the hard surface restoration industry, and it was testament of the high-quality service we offer. He was convinced we could restore his bathroom and decided to fill out a "Request a Quote" form to schedule a free in-home consultation.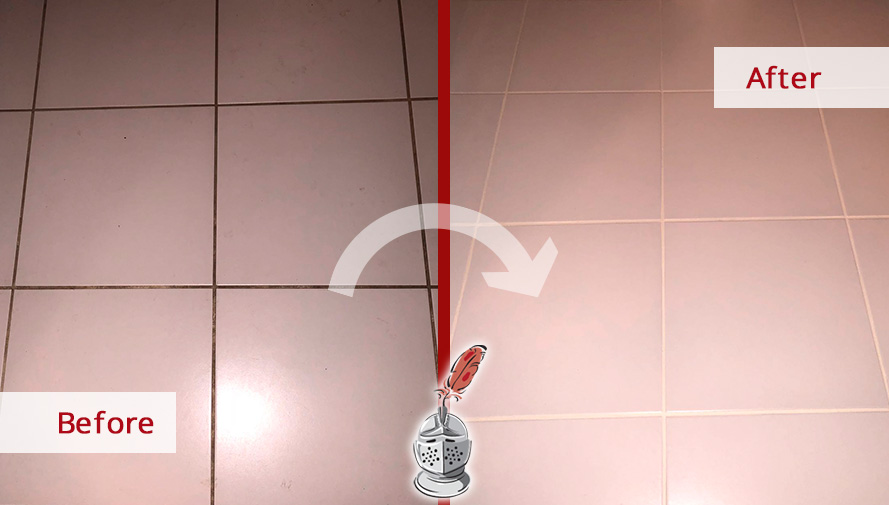 On the appointed date, we arrived ready to begin the bathroom's evaluation and to offer the most effective solution for its restoration. After the introductions, we proceeded with the assessment. We noticed the grout lines on the floor were dirty, cracked, and stained. The caulking in the wall's joints of the bathtub suffered from the same issues and harbored mold and mildew. Also, the tiles were dingy and dim. This was caused by daily wear and tear in conjunction with improper cleaning routines and the usage of harsh, acidic products. Upon closer inspection, we found out the surface was unsealed. This allowed water, grime, and soap scum to seep deep into the grout, causing more damage and potentially leading to more severe issues. The bathroom required professional assistance for complete restoration.
We offered a grout cleaning service using our advanced techniques and skillful expertise. We have tested dozens of products and processes and we have just the right ones to restore even the most damaged and moldiest surfaces. We would deep clean the tiles and grout lines with our exclusive pH-neutral cleaner. On top of being safe for tile and grout, this product has been enhanced with an ingredient that can help inhibit the growth of bacteria, fungi, mold and microorganisms. We would also seal the grout with our ColorSeal, a one of a kind product has been enhanced with an ingredient that can help inhibit the growth of bacteria, fungi, mold and microorganisms, while making cleaning routines easier and faster. We ensured the owner that our qualified procedure would leave the bathroom looking spotless and brand-new. He was pleased with our assessment and the solution we proposed. The young man immediately agreed to set up a date for the job.
We returned to our client's house a few days later to begin the grout cleaning process. It was going to be a multi-step procedure that required the most advanced techniques and exclusive products:
Cleaning the bathroom's walls and floor using our pH-neutral tile and grout cleaner with a gentle high-speed scrubber. The product we use is safe for the tiles and grout because it is soap free. It won't leave any residue that could be absorbed by the grout lines and won't stain or discolor the tiles. Also, its enhanced formula can help inhibit the growth of bacteria and fungi. We performed this step until the entire surface was free of dirt and grime.


Using a high temperature steam cleaner on the grout lines to remove all the fungi from the environment and leave the bathroom completely clean and hygienic.


Performing all the necessary repairs on the grout lines using our professional tools and techniques.


Sealing all the grout lines with our top tier ColorSeal. This state-of-the-art sealant not only enhances the look of the surface, it also provides an extra layer of protection against all external agents, such as water, dirt, and soap residue. It also keeps mold and mildew at bay. We applied the sealant on the bathroom's floor and walls until it was fully protected.
When we completed all the steps, the bathroom had been renewed. It had a clean and refreshed appearance with no traces of dirt or mold. Thanks to our top tier sealant, the grout lines looked beautiful and spotless, with a vibrant, uniform color. The tiles also recovered their natural charm and beauty. Only our team's professional tools, special techniques, and our exclusive top quality products could have achieved this level of restoration in just one day.
Our client went in to see the results of the grout cleaning process and was impressed with the brand-new appearance of his bathroom. He was happy to see the grout fully restored and the surface completely clean. He was amazed by our performance and the quality of our work, and after thanking us, he said we had become his company of choice for hard surface restoration, and from that point on, he would recommend our service to all his friends, family, and neighbors. The owner even left us a five star review:
See What Others Are Saying About Us

Jeremy Z - Chicago, IL
April 24, 2018
Kevin came by to repair cracks in our grout and did an excellent job. Really friendly service and explained the process and benefits in detail. He took care to make sure the work was done in the way we wanted it and the end result is a much better looking shower that is set for the long haul. Also was very easy to communicate with the company - send photos of the work and got a clear price estimate and schedule for them to come by to fix.
via:

View Case
More Testimonials
This superior process provides our clients the best solution for their problem and guarantee long lasting, easy to maintain results. We also train them how to perform proper maintenance and keep their restored surface in top condition for years to come. Before leaving, we left the owner some recommendations to make cleaning routines safe, brief, and effective. We suggested using gel or liquid soaps instead of bar soaps. Soap scum is nothing more than soap residue that has re-hardened on the surface, forming nasty stains. Not using soaps that leave residue would greatly mitigate the accumulation of soap scum. We recommend squeegeeing the walls and floor after each use to further prevent this buildup.
It is also important establishing a weekly cleaning routine using safe, pH-neutral soap free cleaners, which are harmless for the grout because they don't leave any sticky residue. Soap-based cleaners leave a film that seeps deep into the grout lines, promoting mold and mildew growth. Vinegar is a commonly recommended product to remove stains on the grout, but its acidic properties can cause more harm, discoloring or even breaking the grout lines. Keep the bathroom dry and well ventilated to maintain the moisture level low and prevent fungi growth due to the dampness of the environment. Dry the surface using a squeegee, a towel, or a terry cloth, and leave the door or a window open to allow the air to flow freely.
Our qualified techniques, high-quality products, and these easy to follow steps are guaranteed to keep the top condition of the bathroom and help prevent the appearance of any issues in the future.
It is possible to restore your dingy, old bathroom with Sir Grout Chicago's professional help. Our grout cleaning process will give any damaged surface an astonishing new look. We provide experienced, award-wining procedures that will bring back the beauty and charm of your bathroom. As a leading company in the hard surface restoration industry, we have the most effective techniques to help you with your problem. Don't hesitate to contact us by calling
(773) 661-6761
or by filling out our "Request a Quote" form for a free in-home consultation. We will be happy to attend you. Also, be sure to subscribe to our
newsletter
to receive our latest info and promotions.
If you found this article helpful then let us know in the comments section below. Likewise, feel free to share it using the share options below. Want us to cover another topic of your interest pertaining to Hard Surface Restoration? If so, then like us and follow us on social media, and post to any of our social media profiles the topic you'd like us to discuss:
Facebook Sir Grout Chicago
,
Instagram @sirgroutchicago
, and
Twitter @SirGrout
.