Aged and Dirty Bathroom Floor? A Professional Grout Cleaning in Chicago Can Make It Look Like New Again!
December 19, 2017
Homes are often seen as a reflection of the owner's lifestyle. That is why most homeowners care so much about their houses' appearance. However, many people do not have the time or skills to follow a proper maintenance routine in their homes—no matter how much they want to. A popular way to ensure that your house looks good for longer is by using durable, hardy materials like tiles. This homeowner had tiles installed in her bathroom floor years ago. Unfortunately, even the toughest materials can deteriorate over time. For this reason, our homeowner was so thankful when she found a
grout cleaning in Chicago
that helped her solve her particular problem.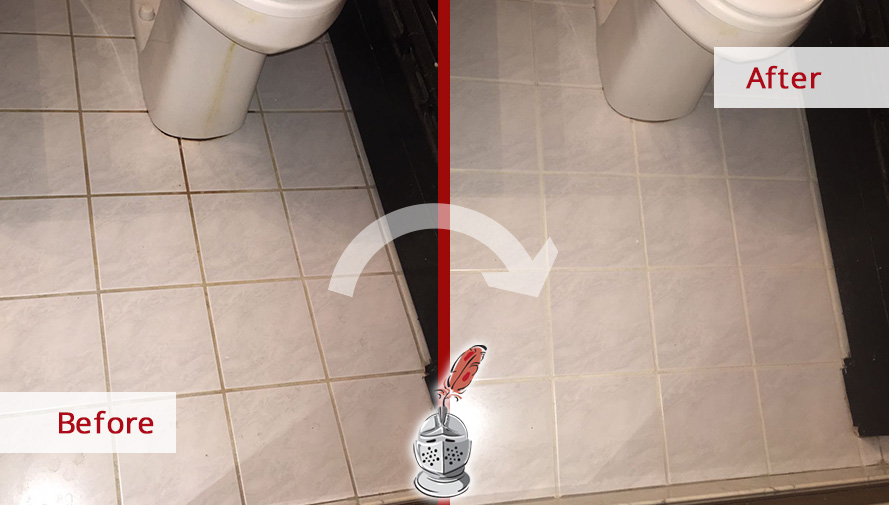 Customer in Distress: Learning about the Homeowner's Problem
This homeowner had a very busy schedule. However, she did a good job of managing her responsibilities at work and her duties at home. The owner cleaned her entire house whenever she had the time, which was not very often. Of course, this routine included her bathroom. Nevertheless, she noticed that the bathroom had started looking different as of late. The homeowner thought that a change in her cleaning routine could fix the problem, which prompted her to buy a different cleaner and use a different cleaning technique. The results? Not exactly what she expected.
DIY Solutions Do Not Always Work
Regardless of how much she tried to recover the original appearance of the bathroom, the problem seemed to be getting worse. The homeowner had always thought that her bathroom was inviting and comfortable. She usually took relaxing showers after difficult days at work. But her bathroom had dramatically changed: it now had an unsightly aspect. The tiles were dull and stained, and there were water marks all over the floor. The grout lines had also darkened and were severely stained, discolored, and aged. Our homeowner knew she had to find a permanent solution, but where could she find such a long-lasting fix?
A Wise Decision: Looking for the Right Grout Cleaning Company
The owner was frustrated and turned to a friend for advice. Her friend had hired our grout cleaning services in the past and was very happy with the results. The homeowner decided to follow her friend's advice and visited our website to schedule a free, in-home consultation. She also read reviews left by satisfied clients. The woman also read about some of our services and blog posts and found them to be very helpful—even for someone like her who knew nothing about hard surface restoration.
Our Team's Assessment
On the day of the appointment, our team of technicians showed up at the owner's house. The woman led them to the bathroom where they evaluated the problem, determined the causes of the damage, and came up with a plan to restore the surface. As soon as our experts saw the floor, they knew that the surface needed a deep grout cleaning. They immediately planned the steps they would need to take and the products they would need to use. They told the owner that it was necessary to perform a thorough cleaning and then seal the grout lines, which would prevent further damage while making the floor look like new.
Why Are Porcelain Tiles So Popular?
Porcelain tiles are very versatile. They can match anyone's style and preferences, and they go well with all sorts of interior design styles. Their durability makes them perfect for floors, walls, countertops, pools, and many other surfaces. Besides their hardiness, these tiles can give homes a stylish, elegant look. This highly adaptable material can withstand years of use because it is resistant to moisture and frost, which makes it ideal for bathrooms.
Grout: Main Characteristics and Problems
However, tile surfaces have a big weakness: grout lines. It is well known that grout is an important part of any tile surface installation, as it is used to fill in the spaces between tiles. You may be wondering why grout is a vulnerability. Grout is a very porous material that allows dirty liquids to permeate its surface and deteriorate the grout. This seepage can result in stains, dryness, dirt accumulation, chipping, crumbling, and in some cases, water damage, which can lead to tile detachment. But these outcomes are not inevitable. To prevent these consequences, your grout lines need to be sealed as soon as the tile surface is installed.
A Timely Grout Cleaning Can Go a Long Way!
No matter how well your grout lines are sealed or how resistant your tiles are, if you do not follow the right cleaning routine, your tile surfaces can eventually show signs of deterioration. Unfortunately, this homeowner had used incorrect cleaning techniques and products on unsealed grout lines for a long time, which resulted in the damage seen in the image. The woman had used soap-based cleaners that usually leave a film on the surface that attracts dirt. Also, she had applied acidic solutions to remove the grime from the grout lines, which dried and discolored the grout. That is why she was thankful when our team showed up a few days later to perform a grout cleaning.
Our Grout Cleaning Procedure
Sir Grout Chicago's crew returned to our client's house to perform the grout cleaning and sealing procedure to restore the bathroom's floor. They began by using the appropriate cleaning products and a high-speed scrubber to remove the dirt from the surface. Then they used vapor steam cleaning to eliminate the most embedded grime.
Our Grout Sealing Procedure.
One thing about grout's appearance is that once it has aged, it will not look like new again unless you recolor it. That was one of the reasons why our team decided to use Epoxy ColorSeal, Sir Grout's flagship product. This step required a high level of expertise to avoid staining the tiles. Our vastly experienced technicians were very meticulous and achieved the desired results.
Epoxy ColorSeal: An Innovative Way to Restore and Protect Your Grout Lines.
Epoxy ColorSeal is Sir Grout's proprietary grout sealant. This state-of-the-art product is designed to make your grout last much longer and be resistant to water, stains, spills, and mold. Since it is one-part epoxy, it is extra tough and can last as long as the grout itself. Additionally, Epoxy ColorSeal comes in a wide variety of colors, giving the grout lines a like-new appearance. Our homeowner chose an off-white shade that matched the color of the tiles.
Showing the Results: Our client's Opinion after the Grout Cleaning
After we finished, our team showed the homeowner the bathroom floor's rejuvenated appearance. She was very pleased with the results and said it looked as if it had just been installed. She also told us that she would recommend our grout cleaning service to anyone in need of a hard surface restoration.
Educating Our Customer: How to Preserve the Results of a Grout Cleaning
At Sir Grout Chicago, we believe in educating our customers on how to preserve the results. With this in mind, we have prepared a list of do's and don'ts after a grout cleaning, so our customers can follow an appropriate cleaning routine:
Keep the surface as dry as possible. It is important to eliminate excess water from the surface.


Remove dirt and dust on a regular basis. Walking on top of dirt can scratch and erode your surface.


Use soapless, pH-neutral cleaning products. Soapy products can leave a film on the surface that attracts dirt.


Avoid flooding the surface when cleaning it. A damp mop or a piece of cloth will do the trick.


Avoid using acidic solutions. Even the mildest acids can damage your surface if they are not properly used. You better leave it to the professionals.


Avoid using steel wool scrubs. They are made of an abrasive material that can seriously damage your surfaces.
Contact Us for Our Hard Surface Restoration Services
If you're looking for a professional team to help you recover the beauty of your surfaces, Sir Grout Chicago is the right choice for you! We offer highly qualified technicians, state-of-the-art techniques and products, and excellent customer service at a fair price. Call us at
(773) 661-6761
or fill out the "Request a Quote" form on this page to schedule a free, in-home evaluation right now.
If you found this article helpful then let us know in the comments section below. Likewise, feel free to share it using the share options below. Want us to cover another topic of your interest pertaining to Hard Surface Restoration? If so, then like us and follow us on social media, and post to any of our social media profiles the topic you'd like us to discuss:
Facebook Sir Grout Chicago
,
Instagram @sirgroutchicago
, and
Twitter @SirGrout
.