Dan and Lauren Lundstedt Donate Masks to Women's Healthcare of Illinois
Chicago Sir Grout Owners Make a Contribution During Current Health Crisis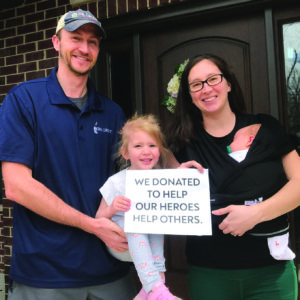 Chicago – (04/29/2020 1:00 PM CST) – Many Sir Grout locations across the country have partnered with Germinator Mobile Sanitizing to bring customers a new service focusing on creating a healthier environment. Sir Grout, a leading hard surface restoration company with locations across the U.S., has added
Disinfection and Microbial SHIELD services
. Germinator Mobile Sanitizing is a leading sanitization and disinfectant company that provides consumers with services aimed at keeping homes and businesses free of germs and bacteria.
Sir Grout Chicago, one of the Sir Grout locations to offer the new sanitizing and disinfecting services, has recently made steps to help the community by donating masks to
Women's Healthcare of Illinois
. Women's Healthcare of Illinois is a company devoted to providing comprehensive and exceptional care to meet the individual needs of their patients. They are committed to serving women throughout the stages of their lives, from adolescence through adulthood. Dan Lundstedt, the owner of Sir Grout Chicago, says, "My wife Lauren and I wanted to find a way to give back during these uncertain times. We're familiar with the work the Women's Healthcare of Illinois does and felt that getting masks to them was important. They're on the frontline of all this and put themselves at risk every day."
Sir Grout has always put safety and health first. Dan goes on to say, "One of the reasons I became a Sir Grout owner is because the company has a solid reputation for putting the health and safety of its customers first. Our products always meet the highest standards. The recent addition of this new two-step process to our list of services allows us to offer a valuable service to our customers, not only during the COVID-19 crisis but moving forward as well. After this crisis, we believe disinfection and sanitizing are going to be more important than ever."
Part one of the two-step process offered by Sir Grout includes the disinfection of common touchpoints using products that meet the EPA's criteria for use against SARS-CoV-2, the novel coronavirus that causes the disease COVID-19. Some of the touchpoints the company will treat include showers, tubs, toilet seats/handles, bathroom stalls, sinks, light switches, appliances, faucets, doorknobs, handrails, counters, furniture, keyboards, tables, TV remotes, key fobs, and cell phones. Any surface people come into contact with can be disinfected. Part two of the process is the application of Germinator's long-lasting SHIELD solution designed to create a barrier on the surface that inhibits the growth of bacteria, algae, fungi (mold & mildew), and yeast.
"We're living through a situation now that will have a lasting effect on the way we look at being mindful of germs and bacteria," says Dan. "We want to do our part to help right now, which is why Lauren and I donated masks to the Women's Healthcare of Illinois, but we are also proud to be offering a product that can make a difference moving forward."
The owners of Sir Grout Chicago also stated they are offering virtual consultation during the current crisis and that all Sir Grout technicians will always follow social distancing guidelines, wear protective gear, and respect the safety of families."
To learn more about Sir Grout or how to get their new disinfecting and sanitizing services, visit
www.sirgroutchicago.com
or call
(773) 661-6761
.