Dan and Lauren Lundstedt Donate Masks to Women's Healthcare of Illinois
Chicago Sir Grout Owners Make a Contribution During Current Health Crisis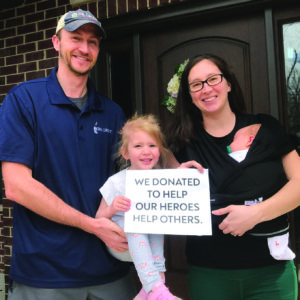 Chicago – (04/29/2020 1:00 PM CST) – Sir Grout Chicago has recently made steps to help the community by donating masks to
Women's Healthcare of Illinois
. Women's Healthcare of Illinois is a company devoted to providing comprehensive and exceptional care to meet the individual needs of their patients. They are committed to serving women throughout the stages of their lives, from adolescence through adulthood. Dan Lundstedt, the owner of Sir Grout Chicago, says, "My wife Lauren and I wanted to find a way to give back during these uncertain times. We're familiar with the work the Women's Healthcare of Illinois does and felt that getting masks to them was important. They're on the frontline of all this and put themselves at risk every day."
Sir Grout has always put safety and health first. Dan goes on to say, "One of the reasons I became a Sir Grout owner is because the company has a solid reputation for putting the health and safety of its customers first. Our products always meet the highest standards."
"We're living through a situation now that will have a lasting effect on the way we look at being mindful of germs and bacteria," says Dan. "We want to do our part to help right now, which is why Lauren and I donated masks to the Women's Healthcare of Illinois"
The owners of Sir Grout Chicago also stated they are offering virtual consultation during the current crisis and that all Sir Grout technicians will always follow social distancing guidelines, wear protective gear, and respect the safety of families."
To learn more about Sir Grout or how to get their new disinfecting and sanitizing services, visit
www.sirgroutchicago.com
or call
(773) 661-6761
.