Residential Travertine Honing and Polishing
Is the travertine in your home collecting etch marks or losing its luster? If so, it may be time to schedule an appointment with the hard surface restoration experts at Sir Grout Chicago. The Sir Grout Professionals are highly qualified to resolve any problems you may be having with any travertine surfaces in your home.
We offer the following travertine services, each of which is sure to bring new life to any tired-looking travertine:
Cleaning
Sealing
Repair
Refinishing (polishing and honing)
Filling Holes
Enhancing
Etch Removal
Travertine is a unique stone that comes in a couple different forms. Travertine comes in what is known as filled and unfilled. Travertine naturally has holes that run throughout the stone, and when left this way, the stone is considered unfilled. The filled travertine is exactly what it says—the holes are filled—giving the stone a smooth finish.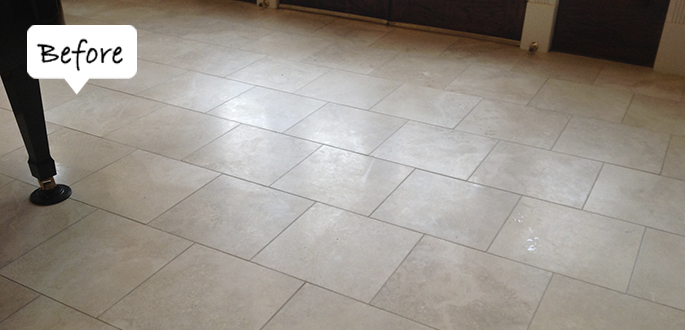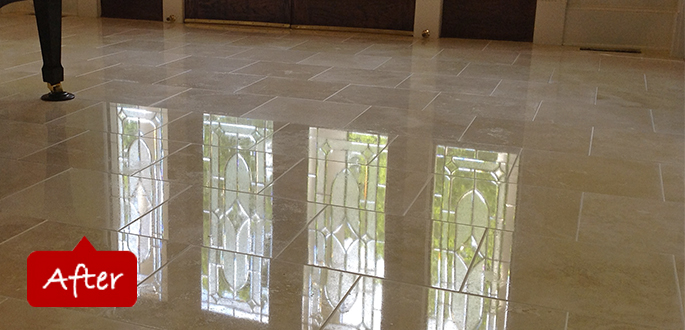 Travertine can come in either a honed (matte finish) or in a polished finish. These finishes need to be cared for and will from time to time need honing to remove scratches and etching, or will need to be re-polished and sealed. As can be seen in the picture above, Sir Grout Chicago offers services that will keep your travertine looking like new. We can clean, hone or polish, and seal your travertine. If you desire, we can custom finish your travertine to the finish of your choice. From time to time holes will become exposed in the filled travertine, and we can repair these holes and restore your travertine back to its original splendor.
Cleaning and Caring for your Travertine
We recommend cleaning travertine surfaces using a quality, stone-safe, neutral stone cleaner. Visit our
Stone Care and Products
page to download our
Stone and Tile Care Guide
and to see our complete care tips, solutions—such as stain removal how-to's—and recommended products. You can also give us a call with any product inquiries.
If your travertine becomes scratched or worn, Sir Grout Chicago can polish and restore your travertine vanities or floors back to the way they looked when they were first installed in your home.
Click on the links below for information and pictures about the other
Residential Stone Services
we offer:
Sir Grout Chicago also provides the following
Residential Services
: