Residential Slate Cleaning and Sealing
Slate is a natural stone that is commonly used in home countertops and floors. Over time, dirt and grime can accumulate on your slate surface, and it can become etched or scratched. When this happens, your slate will need to be professionally cleaned and sealed, and the Sir Grout Chicago experts are highly qualified to provide these services.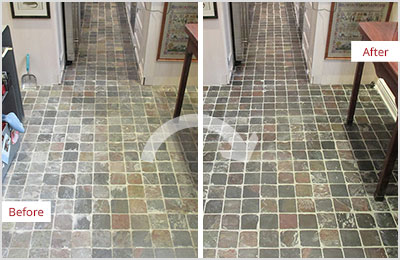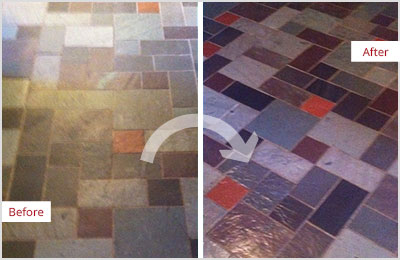 Slate comes in several different textures. There is either smooth slate or it can have a cleft (i.e. rough) finish.. Slate is a porous stone and needs to be properly cleaned and sealed after installation. The different ways to finish slate include the use of color enhancers, topical coatings (e.g. wax) penetrating sealers, and others. The type of sealer used will determine the finished look of the slate. You can achieve a gloss, matte or a low luster finish.
Sir Grout Chicago can service all your home slate needs and customize finishes to your desire.
Caring for Your Slate
We educate our customers on how to properly care for their slate surfaces, and we recommend the most appropriate care and cleaning products. For our complete
Stone and Tile Care Guide
, visit our
Stone Care and Products
page.
Click on the links below for information and pictures about the other
Residential Stone Services
we offer:
Sir Grout Chicago also provides the following
Residential Services
: