Residential Granite Honing and Polishing
Granite restoration requires specialized skills. Our extensively trained technicians can resolve virtually any problem you may have with the granite in your home.
We can:
Repair cracks and chips in granite countertops
Restore dull granite floors and surfaces
Remove most stains
Seal and protect your granite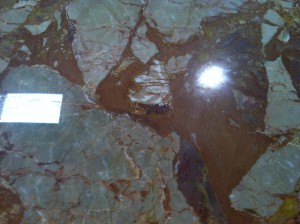 Polished and sealed granite
If and when the granite in your home needs restoration, you need to call a professional that has the specialized knowledge to work on your granite. While many stone restoration contractors won't touch it, the Sir Grout technicians are highly qualified to restore your granite whether it needs to be diamond-honed, re-polished or cleaned and sealing it. The above picture gives an example of the vast improvements polishing can provide on the granite surfaces in your home.
Granite Countertop Cleaning and Sealing
Have you had your granite countertops cleaned and sealed lately? At Sir Grout Chicago, we recommend having your granite countertops cleaned and professionally sealed every one to two years.
Granite Care
We make a point of educating our customers on how to care for the precious granite surfaces in their homes. The key to keeping your granite looking new is the proper cleaning, polishing and sealing of the stone.
Granite is a very hard stone, much harder than marble, and usually does not etch. However, we are now starting to see that some granites that are used today can etch when acidic items are spilled on their surface.
We recommend cleaning granite surfaces using a quality, stone-safe, neutral stone cleaner. Visit our
Stone Care and Products
page to download our
Stone and Tile Care Guide
and to see our complete care tips, solutions-such as stain removal how-to's-and recommended products. You can also give us a call with any product inquiries.
If your granite becomes scratched or dulled, Sir Grout Chicago can expertly polish and restore your home's granite countertops, vanities or floors back to looking just like new.
Click on the links below for information and pictures about the other
Residential Stone Services
we offer:
Sir Grout Chicago also provides the following
Residential Services
: