Learn How a Stone Sealing Service in Chicago Restored the Elegant Beauty of this Red Marble Countertop
April 12, 2017
A homeowner from Chicago was positive that her once beautiful, red marble countertop needed to be replaced with another, cheaper option because of an ever-expanding stain dulling the surface. She had tried a few DIY recipes for stain removal, but none were successful. At last she decided to look for a
Chicago stone sealing
service to see if they could do something—anything to avoid replacing the marble.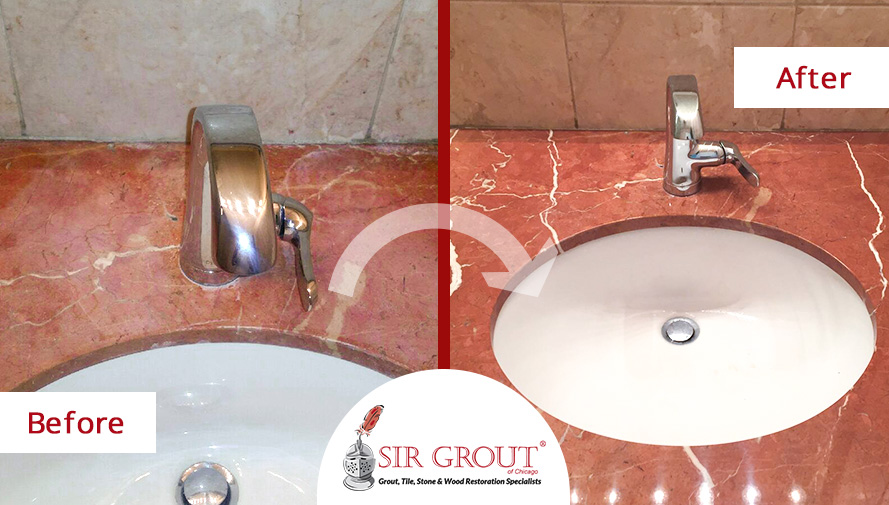 While looking online for a reliable and well-reviewed hard surface restoration company in the Chicago area, she found Sir Grout Chicago. After verifying our experience restoring many types of stone surfaces from various states of ruin, she signed up for a free in-home evaluation.
A few days later, a crew of our stone restoration experts arrived at our client's residence ready to assess the state of the countertop and offer the best possible treatment to undo the damage. Once they took a look at the marble they explained to her what a hard water stain was and offered a stone honing and sealing service, assuring the homeowner that the countertop could be perfectly restored. Trusting our crew knowledge and disposition, the lady agreed.
It can be increasingly unnerving to have a huge stain eat away the elegant hues of a red marble countertop, especially after you had worked so hard to buy and install it to improve the appearance of your master bathroom. However, the presence of hard water –water containing large amounts of minerals like calcium and magnesium—has become more common in American homes because of its health benefits and that it prevents pipe corrosion. Hard water, despite its best qualities, is one of the main causes of stone surface staining. When it evaporates, it tends to leave a layer of mineral deposits that form into a horrible white stain. Over time, the minerals continue to accumulate and ruin most stone surfaces to the point of needing to replace them.
On the scheduled day, the crew returned and got to work. They first applied our own soap-less, pH balanced cleaner—specifically designed for marble surfaces—to the countertop and used a high-speed scrubber to rinse away the dirt and minerals. They also honed the countertop's surface to make sure all mineral residue was gone and to recover the marble's smooth surface. Once this was done, our team of experts applied our proprietary stone sealer, which not only helps protect stone surfaces from damaging agents but also enhances the colors of the stone, restoring their natural appearance.
The results spoke for themselves. The beautiful red hues were as lively as ever and the homeowner even told us she had never seen her countertop look as good as it looked now.
Our team was happy to help and since they wanted to make sure the results were going to last, they gave our client a few care tips before leaving. To prevent another hard water fiasco, they strongly recommended to dry the countertop after usage, because leaving the water to dry would allow the minerals to embed on the stone again. They told her to never use vinegar and other acidic detergents to avoid etching; instead use cleaning products specifically designed for marble. The last tip they gave her was to seal the stone every year or so to keep the stone looking pristine.
Are you having trouble with hard water stains on your marble, granite, or travertine? Here at Sir Grout Chicago we are experts at restoring and providing maintenance to many types of both indoor and outdoor stone surfaces. Contact us by calling
(773) 661-6761
or filling out our "Request a Quote" form at the end of the page. Also, for more tips on stone care you can follow us on
Facebook as Sir Grout Chicago
,
Twitter @SirGroutChicago
, and
Instagram @SirGrout
.